Osaka is known in Japan for its delectable food, and if you want the full experience when it comes to all the delicious types of food here, there's one area in the city you need to visit — Dotonbori.
Dōtonbori (道頓堀, どうとんぼり) is a street located in Namba where locals and tourists alike flock to get their fix of Osaka specialties, whether it be a meal at a restaurant, a snack at one of the many street stalls, or both. You can spend an entire day just eating different things here, which is why it is associated with the term kuidaore (食い倒れ, くいだおれ), meaning to eat until you drop.
I love the bustling vibe in Dotonbori and the colorful restaurants and stalls with massive replicas of Osaka favorites like takoyaki, or seafood like crab and octopus. The atmosphere is exciting, albeit a little overwhelming when it comes to deciding exactly where to eat. After all, our stomachs can (unfortunately) only hold so much.
So for those who have limited time in Osaka, here are 12 highly-rated places to eat on Dotonbori that are popular with locals as well as domestic and international tourists in Japan.
Kushikatsu Daruma Dotonbori (道頓堀だるま)
Kushikatsu (串カツ, くしかつ), sometimes known as kushiage (串揚げ, くしあげ), is an Osaka delicacy consisting of skewed meat and vegetables, which are battered and fried.

Kushikatsu Daruma is one of the most popular chains for this type of food and Dotonbori's is absolutely worth visiting. The giant face above the entrance of the restaurant alone makes it hard to miss!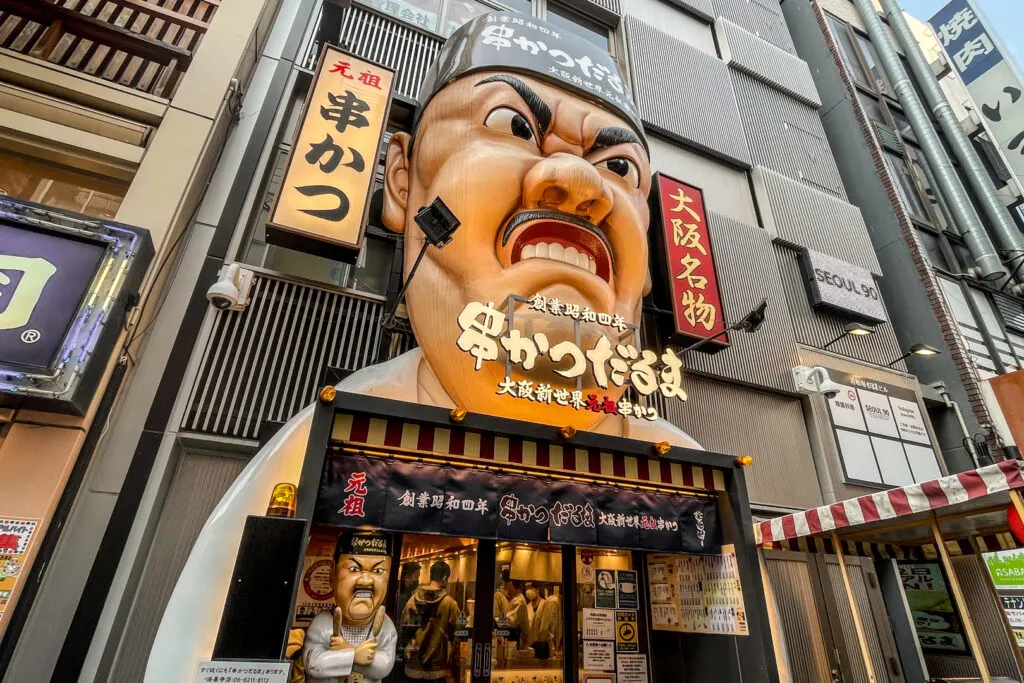 Kushikatsu Shirotaya (串カツ しろたや)
Shirotaya has excellent kushikatsu, some of the best I've had in Osaka thus far, especially for the price. It doesn't have a flashy appearance like some of the places on this list and is tucked inside the third floor of the Nakaza Kuidaore Building, but it doesn't need any gimmicks to lure in customers.
I love their variety of kushikatsu, which are cooked right in front of you if you get a counter seat. The kushikatsu are crispy on the outside and juicy and tender inside. My favorites are the chicken tenders and the mozzarella, which is perfectly melty and stringy with each bite.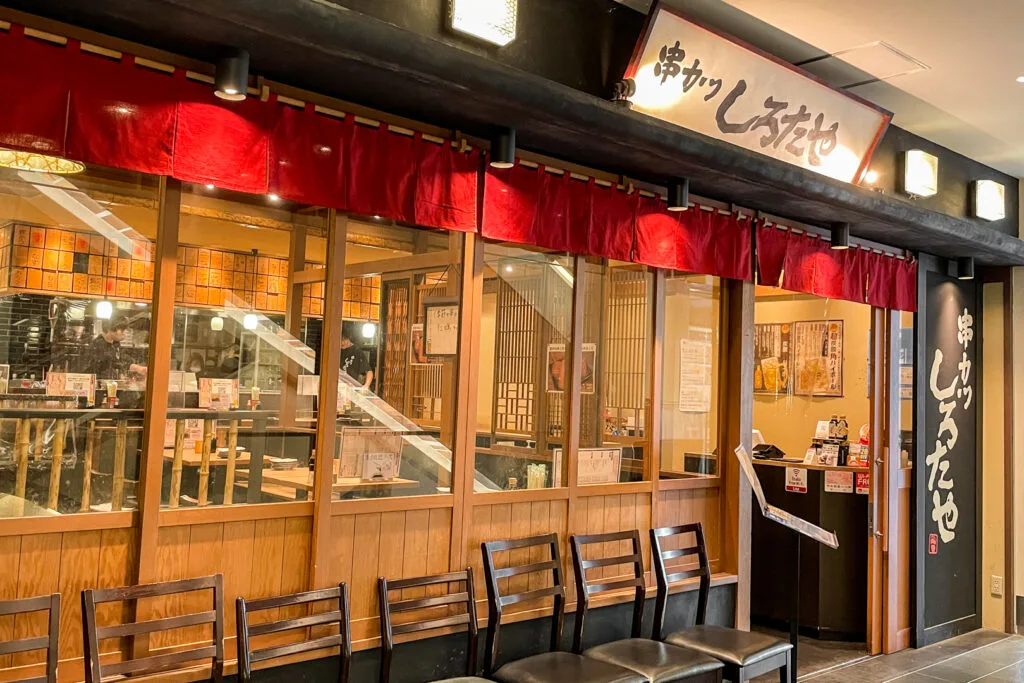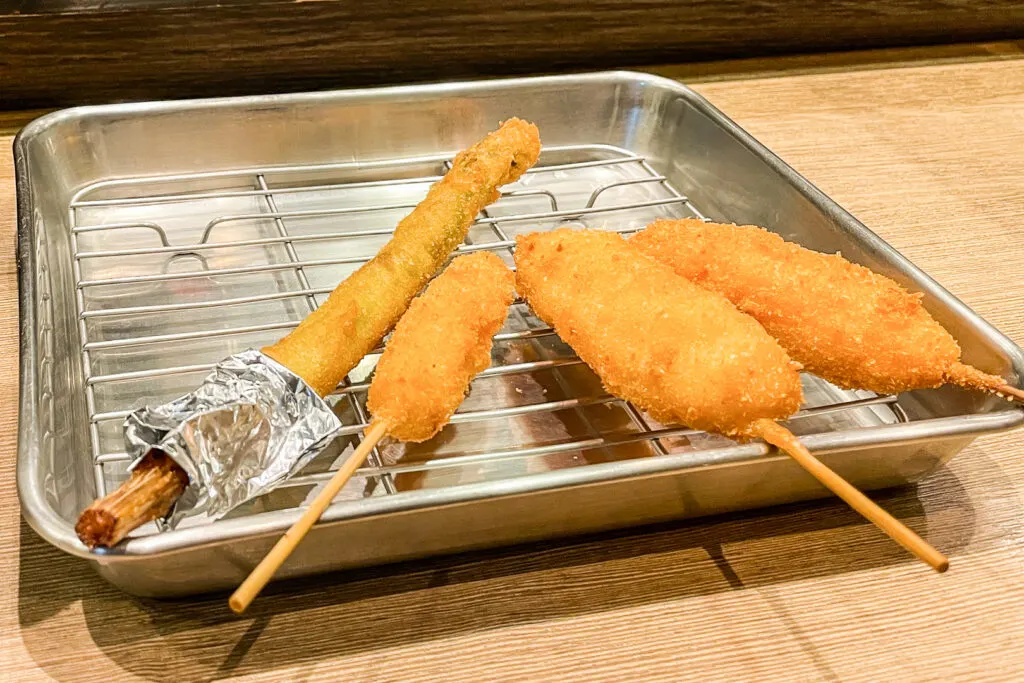 Chibo Okonomiyaki Restaurant
Trying okonomiyaki, a savory grilled pancake, is a must when in Osaka. Chibo is a beloved chain restaurant with branches worldwide, and their Dotonbori branch is certainly worth visiting as it has a special okonomiyaki called Dotonboriyaki (道頓堀焼き). This item is the most popular, which is no surprise given that it is larger than your typical okonomiyaki and packed with pork slices, shrimp, squid, cheese, and beef tendon with konjac.
There may be a line outside but it moves fast as the friendly staff takes your order while you wait. You can customize the okonomiyaki to your liking in case there's something you'd prefer to omit, and there are also gluten-free options!
Your okonomiyaki is cooked right in front of you if you have a counter seat and the flourish of mayonnaise that is then spread and made into a beautiful pattern on the okonomiyaki is fun to see. Although the okonomiyaki is made quickly, taste is not compromised.
I got the Mentaiko Mayo Cheese Fuwatoroyaki but asked for regular mayonnaise instead of mayo containing mentaiko (明太子, めんたいこ) — seasoned pollack roe. Despite omitting what may have been an important topping (it's in the name, after all), the golden brown okonomiyaki was packed with flavor with perfectly crispy pork slices. The perilla leaves inside were also a refreshing touch.

The size was just right for me as it wasn't overly filling, meaning I had room to eat other things on Dotonbori. But don't worry, if you want something more hearty, there are larger sized okonomiyaki, such as the aforementioned Dotonboriyaki, as well as many side dishes.
Ajinoya Honten (味乃家 本店)
I have been wanting to try Ajinoya Honten but whenever I go, there's a huge line and I haven't had the time to wait, unfortunately. Once I passed by at 3pm and there were even more people waiting than there had been at noon! However, this is a testament to the popularity of this place, which has been in business for decades.
Their various kinds of delicious, fluffy okonomiyaki bursting with cabbage are loved by both locals and tourists. The staff will also cook the okonomiyaki for you so that your tastebuds have a perfect experience. I've heard their special okonomiyaki sauce is excellent as well.
Teppanjinjya Dotonbori Branch (鉄板神社)
This teppanyaki restaurant is tucked into the basement of the Erika (エリカ) building, but it is easy to find. Jinjya (神社, じんじゃ) means shrine, so the outside of the restaurant has both a large white lantern with the restaurant's name on it and a bell, which are both typically found at shrines in Japan.

I love the stylish and relaxed atmosphere in Teppanjinjya. It's a perfect place to wind down and try different kinds of grilled food served on skewers while enjoying a beer or two with some edamame and jazz music. My favorites were the bacon-wrapped camembert cheese, shiitake mushroom stuffed with minced meat, and the asparagus. They also have seasonal specialties such as oyster and Yellowtail in the fall.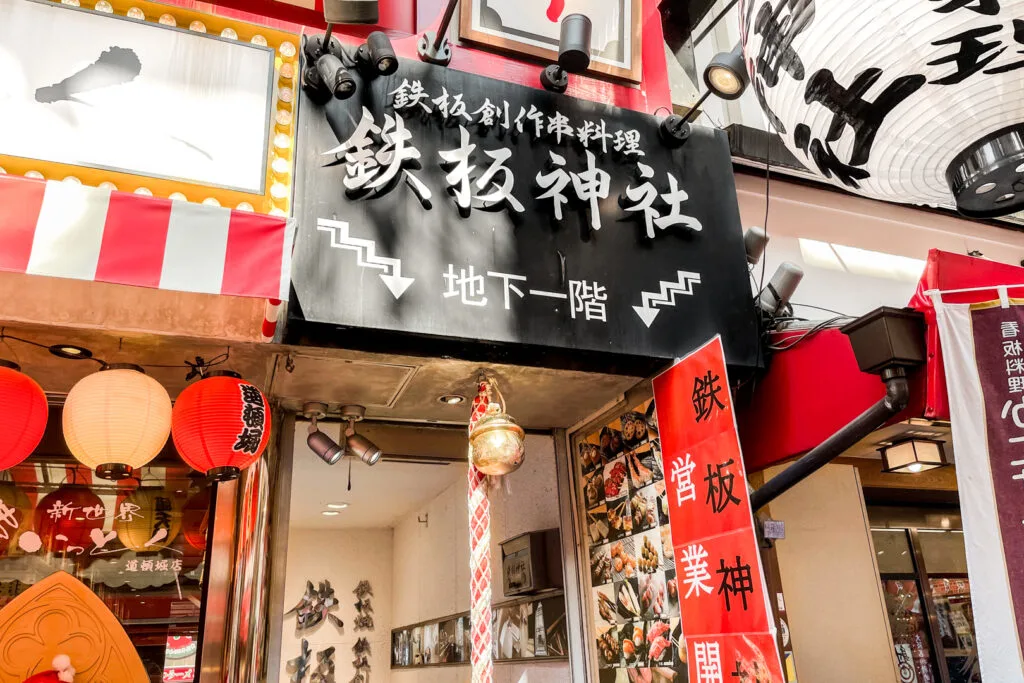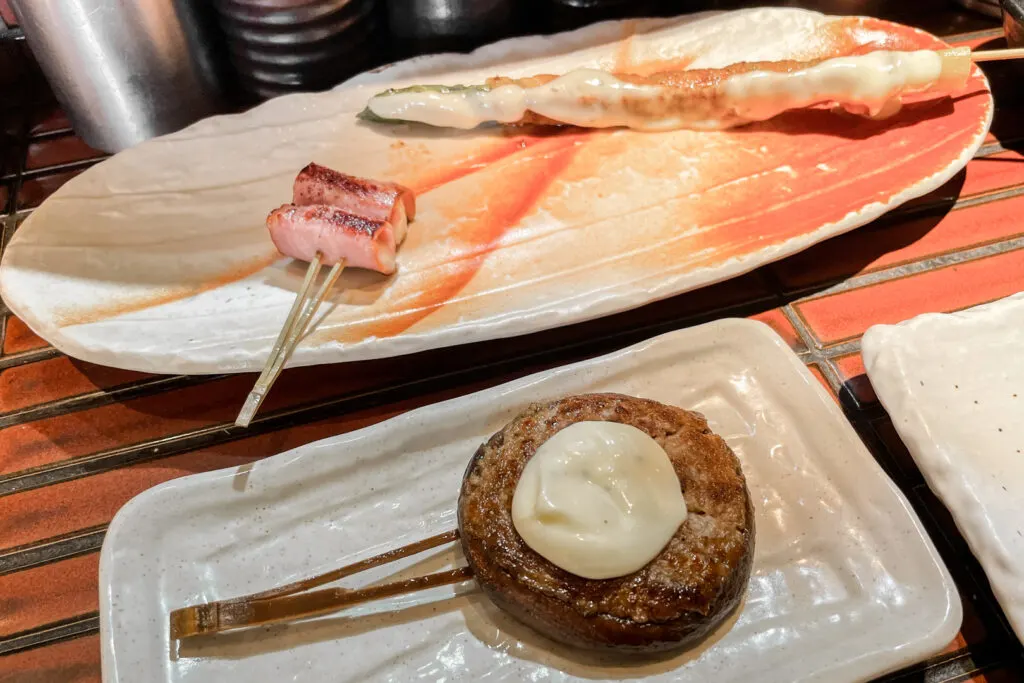 Kani Doraku Dotonbori (かに道楽)
One of the most famous sights in Dotonbori, other than the neon Glico Running Man, is a giant moving red crab atop Kani Dōraku, a restaurant specializing in (unsurprisingly) crab, which is kani (かに) in Japanese. They have a ton of different dishes featuring crab, such as sushi, tempura, boiled crab, simmered crab, grilled crab, and the list goes on.

Given the price, I wouldn't recommend coming here unless you want a full-on crab experience and get one of their set meals. Otherwise, you can grab a kani man (かにまん), which is a steamed bun filled with crab meat, at their outdoor stall.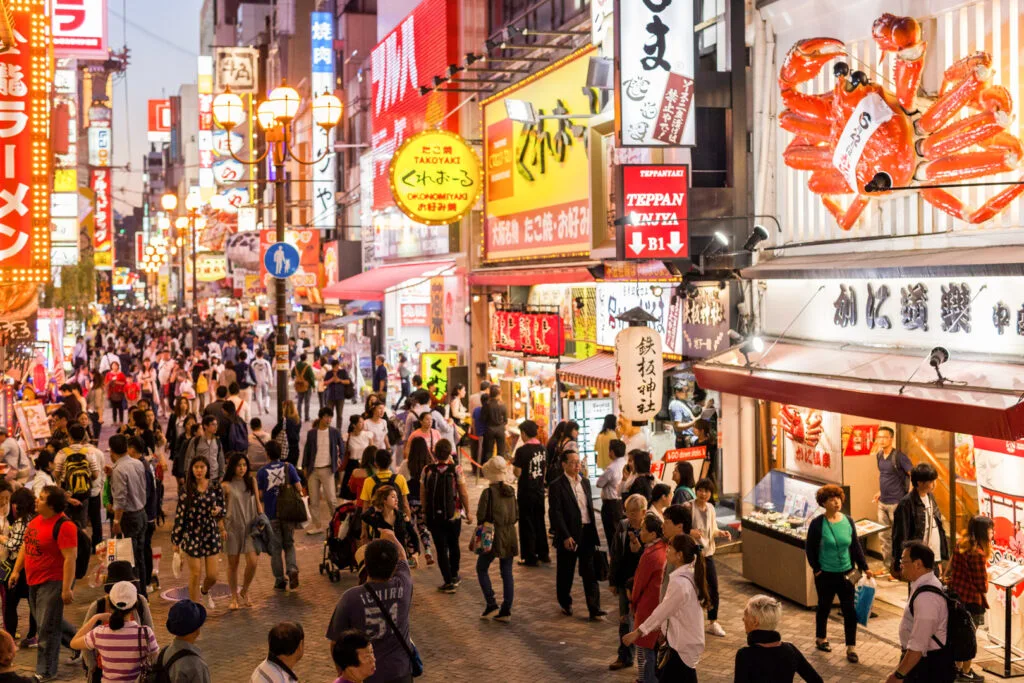 There are several branches across Japan but this particular one in Dotonbori is the first. I haven't had the chance to enjoy a sit-down meal here as I want to enjoy this restaurant with my family; however, I have gotten one of their fancy bento boxes for my husband and daughter to share. It took about thirty minutes to prepare, which was fine because I was able to eat some things along Dotonbori as I waited.

As is typical of bento boxes, it was cold by the time my family had it but despite this, they enjoyed every last bit and felt very spoiled by the meal. This makes me look forward to when we can enjoy a piping hot meal in the restaurant.
Dotonbori Imai Honten (道頓堀今井 本店)
Boasting over seven decades of history, Dōtonbori Imai catches almost every traveler's eye because of how much it contrasts with many of the showy and modern restaurants in the area. It is located in a modest traditional Japanese building with black kawara (tiles) and a willow tree called Yoimachiyanagi, which has become a landmark of sorts in Dotonbori.
Known for its kitsune udon, which originated in Osaka, this restaurant is commonly featured in gourmet magazines in Japan. This is one reason why there's usually always a line of people outside waiting to have a taste of the famous noodles and the special dashi (broth), a family recipe that has been passed down generations.
If you live in Japan and can't make it down to Dotonbori to try this udon restaurant, they have an online store where you can order their broth, noodles, or even bentos.
Harijyu (はり重)
The Harijyū building, built in 1948, sits on the corner of Dotonbori and houses three highly-rated restaurants that all feature beef in different styles — one specializing in Japanese curry, the second sukiyaki and shabu-shabu, and the third a western-style grill.
There is also a meat shop where you can get fresh meat or packaged meals like beef stew to cook at home, and even ready-made food such as bentos and katsu (cutlet) sandwiches.
Mattari Purin (まったりプリン)
Mattari Purin is located in the Harijyu building, but unlike the others, it doesn't specialize in meat. Instead, it's the place you go to for a quick dessert.

The custard pudding (purin in Japanese, written as プリン) from this store is among the best I have ever had in my life and is true to its name, mattari (まったり) meaning rich in flavor. It's thick and creamy with a perfect balance of vanilla, sugar, and egg, with a hint of cheesecake flavor. It's no wonder that Mattari Purin has been featured various times on television programs, in magazines, and in newspapers in Japan.
Takoyaki Doraku Wanaka (たこ焼き道楽 わなか)
Of course, I can't write an article about what to eat in Dotonbori without including one of the most famous must-have foods in Osaka — takoyaki! These savory grilled balls of batter containing a piece of octopus and topped with delectable sauces are sold in many shops along Dotonbori but one of the most well-known is Takoyaki Dōraku Wanaka. This is a chain shop but the Dotonbori branch is absolutely worth visiting.

You can either dine inside and grab a beer while you're at it or take your takoyaki to go. I recommend getting their variety box (ooii, おおいい) so that you can try four different flavors — traditional takoyaki sauce with mayonnaise, green onion with salt, soy sauce, and mentaiko mayonnaise (usually shortened to mentai mayo, 明太マヨ, in Japanese).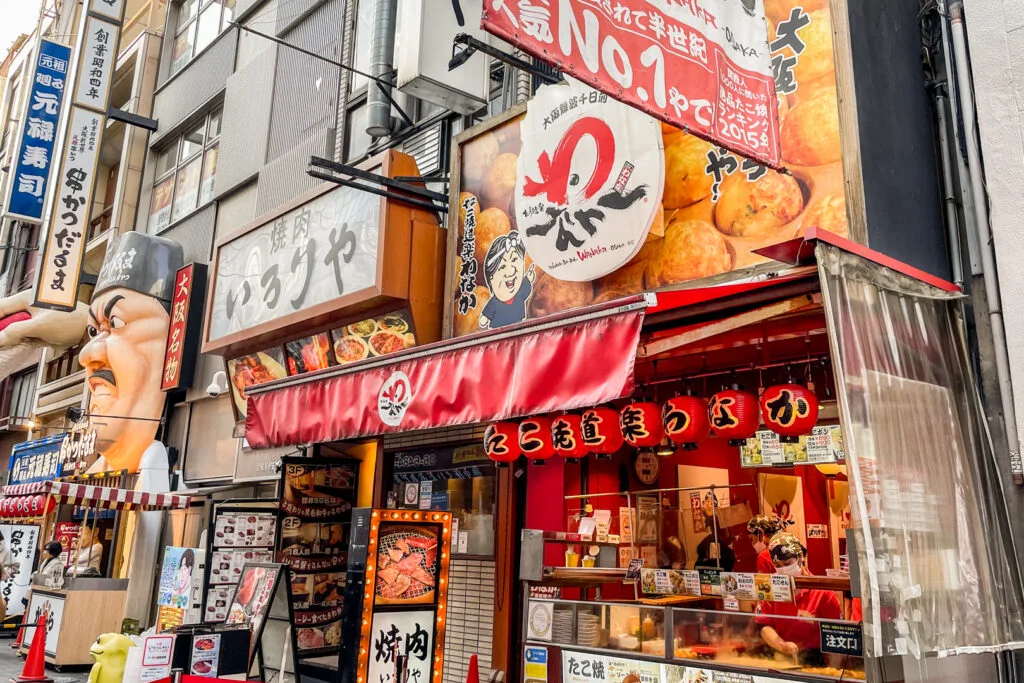 Creole Junk (くれおーるJUNK)
If you want to try some takoyaki with a spin on it, check out Creole Junk. This stall serves standard takoyaki as well as four different gourmet takoyaki topped with either porcini mushroom sauce, olive oil, cheese and black pepper, truffle salt, or two different kinds of spicy sauce. They also have fried chicken and yakisoba if you want a little extra.
There are small outdoor tables where you can enjoy your takoyaki with some bottled beer. I've tried the porcini mushroom sauce and I quite enjoyed the creamy and savory taste of it on the soft and piping hot takoyaki. It was like a tasty hug on a crisp winter day.
Salon De The Alcyon
If you somehow have room for dessert, then you'll want to visit the Salon De The Alcyon patisserie. Their seasonal sweets, such as cakes and tarts, are exceptional. You can either dine in with a dessert and one of their many teas at the fancy European-style salon on the second floor, perhaps even treat yourself to a Paris Afternoon Tea set, or simply order some sweets to go from the first floor.
When I first visited in the winter, they had several desserts flavored with Earl Grey tea, my favorite, so I ordered an Earl Grey mousse with orange peel to go as well as a strawberry shortcake for my husband and daughter. They packaged everything perfectly so everything looked just like it had in the store's glass display case by the time I got home.

After one bite, I was instantly hooked by the perfect balance of flavor and texture, and my family felt the same. I'm looking forward to trying more of their desserts, especially their fruit tart, which was already sold out in the afternoon when I arrived.
If you're interested in visiting any of these shops (which you absolutely should!) you can find them on this Google map to make it easier for you to eat your way through Dotonbori!
Happy feasting!

Pin me for later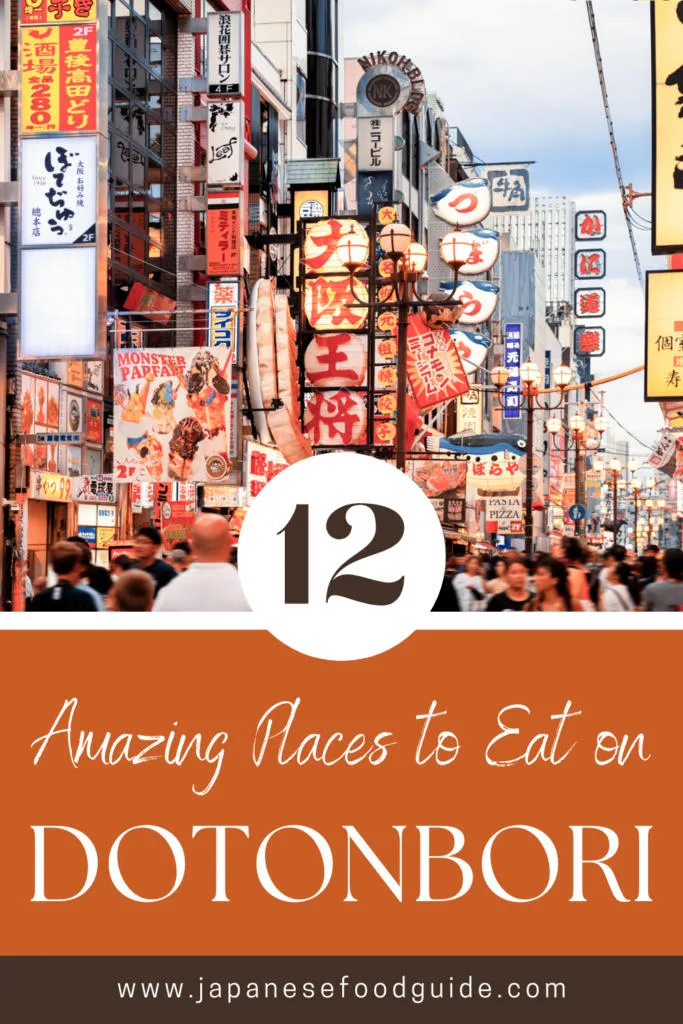 Kay is a Canadian freelance translator and writer who has been in Japan for more than a decade. Having lived in the Chugoku, Kanto, and now the Kansai regions, she hopes to share their various local cuisine on JFG.
She also writes about her experiences being a mother in Japan on her website, Tiny Tot in Tokyo.