Japan is famous for its regional specialties. These can include traditional dishes or modern creations — regional soft serve ice creams, for example are extremely popular. Most recently, many areas can add craft cola to their list of local specialties for people to try and buy.

Craft colas are pricier than your average supermarket cola, but since they are made in small batches with natural ingredients (usually locally sourced) requiring incredible craftsmanship skills and they are generally healthier, it's worth the higher price tag.
Craft Cola Brands in Japan
Craft colas in Japan are having a moment. Since about 2018, both the supply and demand of these additive-free, spicy concoctions have grown steadily.

Whether it's the result of a more health-conscious crowd seeking non-alcoholic beverage alternatives or it's part of a larger environmentally-focused initiative is yet to be determined, but either way, Japanese regional craft colas look like they're here to stay.
Iyoshi Cola, Tokyo Prefecture
Possibly the representative of Japanese craft colas, Iyoshi Cola is tucked away in a quiet corner of Shinjuku's Shimo-Ochiai area.

Established in 2019 by self-proclaimed cola maniac Takahide Kobayashi, who goes by the moniker Kola Kobayashi, Iyoshi Cola is the result of the serendipitous online discovery of an over 100-year-old cola recipe, followed by two and a half years of trial and error.

Of course, it wasn't just chance that got him here — Kobayashi's grandfather, Ryotaro Ito, was a craftsman of Japanese traditional medicine. He took over his grandfather's factory and used many of the tools left behind for his experiments.

Kobayashi completed the Iyoshi Cola recipe in July 2018 and after selling it from a food truck, now has two stores devoted to the brew, the most recent opened in April 2021.
Toba Toba Cola, Kagoshima Prefecture
Hailing from a tiny island called Kikaijima in Kagoshima Prefecture's Amami archipelago, Toba Toba Cola is run by Nao and Keith, who met in Singapore in 2012.

Inspired by the herbal drinks available in Singapore, the couple makes use of local ingredients like indigenous island citrus fruits, raw brown sugar and a variety of spices, which are hand ground. Many of the fruits would otherwise go to waste, so Toba Toba Cola is actively working to reduce food loss on Kikaijima.

Their mix of 14 spices, combined with a unique kola nut extraction method, creates a mellow-flavored cola that suits all ages.
Izumo Spice Lab
Izumo Spice Lab president Kentaro Yamada discovered the rich variety of spices across the world and their varied uses when he backpacked through 30 countries in 2011.

After returning to Japan and joining the rat race in Tokyo for a while, he moved to Shimane Prefecture — one of Japan's least populated regions — to study agriculture. While there, he discovered more and more fields were being abandoned as farmers retired or couldn't take care of them anymore.

To help revitalize the region and protect the natural scenery, Yamada, together with his business partner Hiroya Nakano work together with local farmers to create something new. That something new is a selection of four cola syrups (Craft Cola, Kodomo Cola for kids, Craft Energy and Ginger Chai) and spicy curry kits.

Each syrup has a different flavor profile and spice mixture — the flagship Craft Cola has a combination of 10 spices and three different citrus fruits, offering a burst of fragrance when you open it.

Izumo Spice Lab grows most of their ingredients locally on formerly abandoned fields without chemicals or pesticides, while retaining the traditional farming techniques.
Kihada Cola, Nara Prefecture
One of the most recent contenders on the craft cola scene in Japan is Pony no Sato Farm's Kihada Cola, which released its Spring Water Kihada Cola in late March, 2021.

The cola is inspired by daranisuke, a traditional Japanese herbal medicine that has been made and used in Nara Prefecture for over 1,300 years. The medicine contains the bark of the amur cork tree and is said to be helpful in relieving digestive issues.

However, making daranisuke causes a lot of waste, as the medicine only uses the tree bark. Since 2016, Pony no Sato Farm has made new products from discarded amur cork wood and planted new saplings, to ensure the tradition continues.

Finally in March, they crafted a cola using the citrus fruits from the tree and gajutsu (purple turmeric) to make a spicy and uplifting drink.
Tomo Cola, Tokyo Prefecture
Tomo Cola has a unique position in the Japan craft cola scene. Not only does the brand — run by a former perfumer — create its own colas, it also helps people in regional Japan create their own.

The aim is to promote Japan's many rare fruits and spices in a way that's easy for modern people to consume. Tomo Cola helps with design and supports people in the process, but gives all the rights to those making the cola in their home region.

Gifu Cola and Kuma Cola (below) are two examples of successful localized craft cola projects that Tomo Cola has initiated. They also have their own original colas, packed with herbs and spices for an immersive aromatic experience.
Some More Japan Craft Colas…
New and exciting craft colas are popping up continuously — here are some more honorable mentions:
100 Years Cola, Tokushima Prefecture
Made in small batches by the owner of a brownie shop, this craft cola syrup is hard to come by. You can find it at Tokushima city's Sunday market Tokushima Marche at regular intervals, but it is, as yet, not sold on the company's website. It contains Tokushima-grown lemons and sudachi citrus fruits, as well as locally made wasanbon sugar.
Onimimi Cola, Nara Prefecture
Located in the idyllic traditional town of Imai-cho in Nara Prefecture, Onimimi Cola — that's ogre's ear cola in English — is a brand that stays true to one of Japan's strongest traditions: paying attention to seasonality. Hattou Pharmaceutical Industry Co., Ltd, a traditional medicine company, changes the flavor of the cola according to the season, creating a new flavor experience four times a year.
Gifu Cola, Gifu Prefecture
Labeled as a healthy medicinal drink, Gifu Cola is the brainchild of three young entrepreneurs — all Gifu natives born in 1991 — to celebrate the rich herbal medicinal culture of the former Kasuga village (now Ibigawa town) that traces back over 450 years. Locals have long used the herbs grown here in tea and their bathwater, but it has become less common. Gifu Cola hopes to offer a new generation the benefits of herbal medicine, without the stodgy image.
Kuma Cola, Kumamoto Prefecture
Created through a collaboration with Tokyo's Tomo Cola, Kuma Cola is an additive-free "raw" cola recipe that uses, together with spices from around the world, Japanese herbs and Kumamoto-grown citrus fruits and brown sugar. One of their top recommendations is to make a cola float.
Kochi Craft Cola Sawachina, Kochi Prefecture
Always creating new and improved recipes, Sawachina's first batch of 2021 includes pesticide-free, non-wax locally grown yuzu fruits — a Kochi specialty — as well as daidai oranges and ginger to create the perfect balance between acidity and sweetness.
Japanese Craft Cola: How to Drink It
Since craft colas are most often sold in small bottles of undiluted syrup, it's up to the user to prepare it in a way that suits them. Many of the most typical serving suggestions advise mixing the syrup with carbonated water, milk, hot water or even espresso. You can even use it to make cocktails!

For measurements and brand recommendations, it's best to consult the website of the craft cola brand you own. You can, of course, buy pre-mixed craft cola drinks at shops and cafes across the country, too.

Have you tried Japanese craft cola? Would you like to?

Pin me for later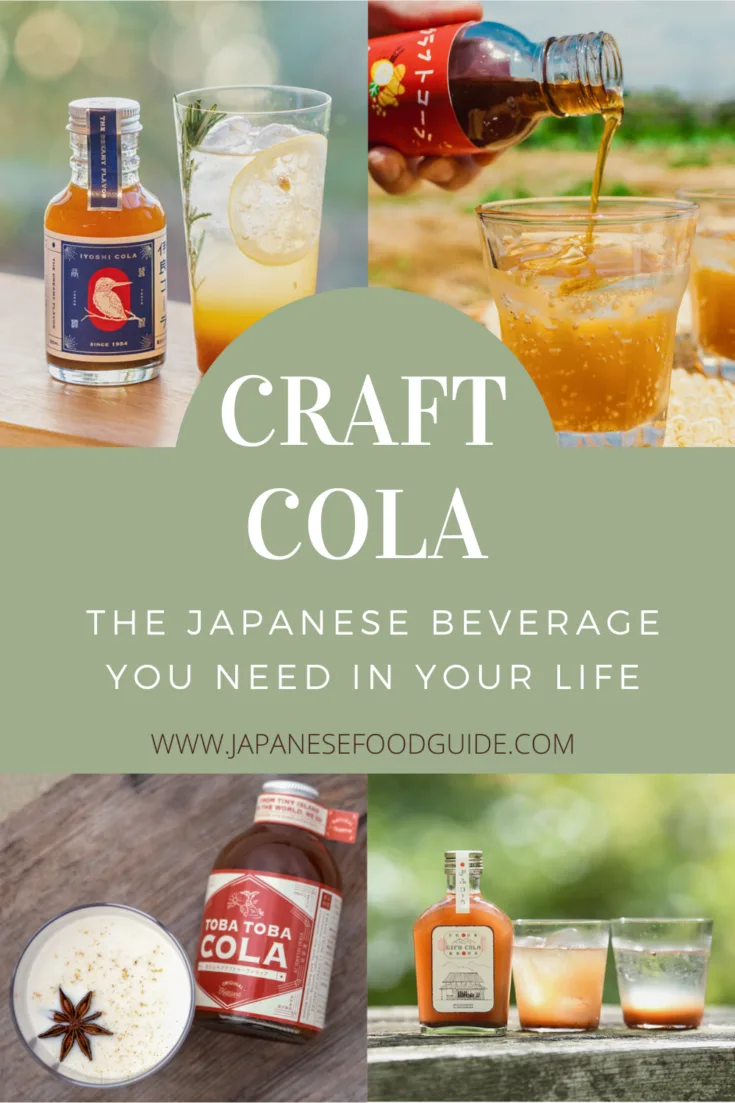 Lisa has spent over a decade scouring Japan for the most interesting food, places and people. She works as a writer, travel consultant and translator, with the occasional stint as a reporter on the NHK World TV programs Tokyo Eye 2020 and J-Trip Plan.
She can't get enough of good dogs, good coffee and good music, and is currently studying to become a sake sommelier.